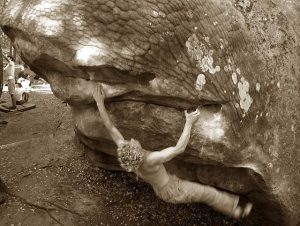 If you're looking for a bouldering vacation, there are plenty of destinations around the world that offer world-class bouldering opportunities.
From the rugged mountains of Colorado to the sandy deserts of South Africa, these locations offer some of the most breathtaking and challenging bouldering routes on the planet. Whether you're a beginner or an experienced climber, there's something for everyone in our list of top bouldering destinations.
So pack your chalk bag, lace up your climbing shoes, and get ready to explore some of the most beautiful and thrilling bouldering locations in the world.
Read on to discover our top picks for the best bouldering vacation spots.
---
1. Fontainebleau, France
Fontainebleau is one of the world's most famous bouldering destinations, with over 20,000 boulder problems to choose from. The forested area around the town of Fontainebleau is full of sandstone boulders that offer a wide range of routes for climbers of all levels.
Fontainebleau Climbs: The Finest Bouldering and Circuits is a highly rated bouldering guide book covering a wide range of bouldering areas within the forest, including popular locations such as Bas Cuvier, Apremont, and Roche aux Sabots. The authors provide detailed descriptions and maps of each area, as well as information on the grades, types of climbs, and recommended circuits for each location.

---
2. Bishop, California, USA
Bishop is a small town in the Eastern Sierra region of California that has become a mecca for bouldering enthusiasts. The area is home to several world-class bouldering spots, including the Buttermilks and the Happy Boulders.
Bishop Bouldering is a comprehensive guidebook that covers over 2,000 bouldering problems in the town of Bishop, California, featuring stunning color photographs of the area's bouldering, including action shots from professional photographers. This guide book includes detailed information on popular bouldering areas such as Buttermilk Country, The Happy and Sad Boulders, The Druid Stones, and Rock Creek and The Sherwin Plateau.

---
3. Rocklands, South Africa
Located just outside the town of Clanwilliam, Rocklands is a stunning bouldering destination with unique sandstone formations and a warm, dry climate. The area is known for its technical climbing, with many routes requiring precise footwork and finger strength, and many opportunities for highball problems and dynos. The area is home to several iconic boulder problems, such as the famous "Golden Shadow" route.
Rocklands Bouldering 2x is an indispensable resource for boulderers of all levels who want to explore the world-class climbing opportunities in Rocklands. It is authored by Scott Noy, a well-known climber and guidebook author, and includes detailed information on each boulder problem, as well as color photographs and maps to help climbers navigate the area. This guidebook covers over 2,500 boulder problems in the area, including popular locations such as the Sassies, Roadside, and the Agtertafelberg.
---
4. Albarracin, Spain
Albarracin is a picturesque medieval town in the Aragon region of Spain that has become a popular bouldering destination in recent years. The area is known for its steep, challenging routes, and the town itself is full of history and charm.
Boulder Albarracín is an exceptional guidebook that caters to boulderers who want to explore the world-class climbing opportunities in Albarracín, Spain. Even though this bouldering guidebook is written in Spanish, it features very well-taken color photographs that showcase the beauty of the region's bouldering areas. It covers over 3,000 boulder problems in the region, including popular bouldering locations such as the Pinares de Rodeno, Techos Bajos, and the Arrastradero sector.

---
5. Cooper's Rock, West Virginia, USA
Cooper's Rock is a popular bouldering area located in northern West Virginia, USA. The area is known for its challenging sandstone boulder problems, scenic views, and friendly climbing community who are happy to share beta and recommendations. The area also offers amenities such as camping, restrooms, and picnic areas, making it a comfortable and convenient destination for bouldering enthusiasts of all skill levels.
The boulders at Cooper's Rock are dispersed across several different areas, including Roadside, Skyline, and the newly developed Dayhouse area. Climbers can expect to find a wide range of problems, from beginner-friendly routes to highly technical and difficult lines. Some of the area's classic problems include "Thieves" and "Chronic."
by Dan Brayack and Tim Keenan
The Coopers Rock Bouldering Guide is authored by local climbers and features detailed information on the area's bouldering routes, including ratings, descriptions, recommended approaches, and provides maps and photos to help climbers navigate the terrain.
In addition to the route information, the Coopers Rock Bouldering Guide also provides helpful tips and recommendations for visitors to the area. This includes information on camping and lodging options, nearby amenities, and local restaurants.
The guidebook is organized by different bouldering areas within Cooper's Rock, including Roadside, Skyline, and Dayhouse.

---
6. Hueco Tanks, Texas, USA
Hueco Tanks is a state park in west Texas that is renowned for its bouldering opportunities. The park is home to unique rock formations and a diverse range of routes, making it a popular destination for climbers from around the world.
Hueco Tanks Climbing and Bouldering Guide
by John Sherman
The Hueco Tanks Climbing and Bouldering Guide is a comprehensive guidebook for climbers and boulderers looking to explore the stunning Hueco Tanks State Park in El Paso, Texas.
The guidebook is organized by different areas within the park, including North Mountain, East Mountain, and West Mountain, and provides detailed topographic maps that show the different areas within the park, as well as the location of specific boulder problems, access points and recommended approaches.

---
7. Magic Wood, Switzerland
Located in the Swiss Alps, Magic Wood is a stunning bouldering destination that is known for its beautiful scenery and challenging routes. The area is home to over 300 boulder problems, including some of the hardest in the world.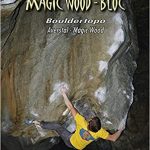 The Magic Wood – Bloc guidebook is available in German, French, and English and includes descriptions of all 1,213 boulder problems spread across nine different areas in the park. The problems are graded across a wide range of difficulties, from Fb 1-3 to Fb 8a-8c, with an additional 123 problems graded as projects.
The nine different areas covered in the Magic Wood Bloc guidebook are: the Heart Area, Parking Lot Area, Apple Juice Area, Dreamtime Area, Magic Wood Area, Enigma Area, Pura Vida Area, Zwischenwelten Area, and Sonlerto Area. Each area is described in detail, with information about the types of boulder problems, the best times to visit, and other important details.
---
8. Hampi, India
Hampi is a UNESCO World Heritage site in southern India that is home to some of the most unique bouldering routes in the world. The area is full of ancient ruins and stunning landscapes, making it a popular destination for climbers and tourists alike.
Golden Boulders Climbing Guidebook Hampi includes detailed descriptions, ratings, and photo topos for over 50 bouldering areas and more than 800 boulder problems in and around Hampi.
The guidebook is written in both German and English and includes useful information about the local climbing community, culture, and customs, as well as tips on bouldering and climbing etiquette.
The bouldering areas covered in the guidebook include classics like the Mowgli Boulders, the Secret Garden, and the Mushroom Boulders. The problems range in difficulty from V0 to V14, with a concentration of problems in the V4 to V8 range.

---
9. Boulder, Colorado, USA
Boulder, Colorado is a well-known destination for bouldering enthusiasts, with a wide range of bouldering areas to choose from. Some of the most popular bouldering areas in and around Boulder include:
Flagstaff Mountain: This is one of the most popular bouldering areas in Boulder, with a wide range of boulder problems to choose from.
The Flatirons: These iconic rock formations offer a unique bouldering experience, with many classic problems to test your skills.
Mount Sanitas: This bouldering area is known for its steep and challenging routes, with many problems graded in the V8-V12 range.
Upper Dream Canyon: This area is located just outside of Boulder and features a mix of boulder problems and traditional climbing routes.
Eldorado Canyon: This area is known for its traditional climbing routes, but also has a handful of boulder problems that are worth checking out.
The Best of Boulder Bouldering guidebook covers a total of 25 bouldering areas, ranging from the popular classics like Flagstaff Mountain and Mount Sanitas, to lesser-known areas like The Wilds and The Bones. Each area is illustrated with color photos and maps, making it easy to find your way around.
---
10. Squamish, British Columbia, Canada
Squamish is a popular outdoor recreation destination located between Vancouver and Whistler in British Columbia. The area has over 2,000 boulder problems and is known for its stunning scenery and challenging climbs.
Some of the most popular bouldering areas in Squamish include:
The Grand Wall Boulders: located near the base of the iconic Grand Wall, this area features a variety of boulders ranging from beginner to advanced. Highlights include the splitter cracks of the Split Boulder and the classic roof problem of the Black Hole.
The North Walls Boulders: this area is located near the Stawamus Chief, the towering granite monolith that Squamish is famous for. The boulders here are scattered among the forested slopes and offer a mix of slab, face, and crack climbing.
The Apron Boulders: situated at the base of the Apron, this area is characterized by its steep, technical face climbing. Some of the standout problems here include the crimpy testpiece of Power of Eating and the sustained slab climb of Foxy Lady.
The Petrifying Wall Boulders: located on the north side of the Squamish River, this area is home to some of Squamish's hardest boulder problems. The boulders here are steep and powerful, featuring big moves and dynamic sequences.
The Squamish Bouldering Guidebook, 3rd Edition includes detailed information about over 2,400 boulder problems across 70 different areas. The guidebook features full-color photographs of each boulder, as well as easy-to-follow maps and directions, and includes well-known spots such as the Grand Wall Boulders, the Powerhouse boulders, and the North Walls, as well as lesser-known areas like the Squamish Valley and Furry Creek.
---
We hope you enjoyed our guide to our favorite bouldering spots. Let us know in the comments if you've been to any of these places, and let us know your favorite bouldering vacation spots too. Happy Bouldering!