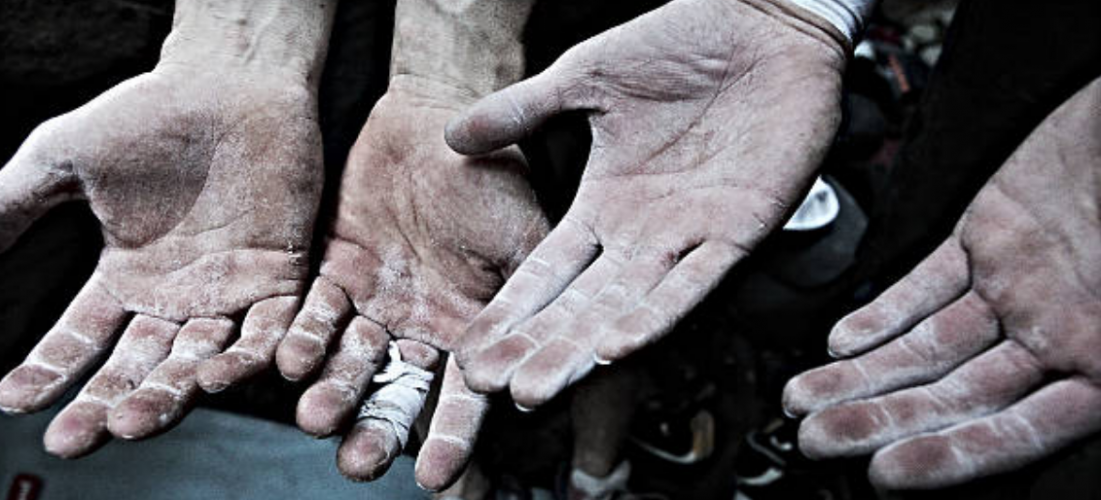 The skin on your hands is very important as a climber. The abuse that your hands will go through can put you out of climbing commission. It's important to find the best method for keeping your hands in as good of shape as the rest of your body.
Even as a brand new climber, you've probably already discovered how easy it is for your hands to become overly dry and for your skin to become painful and even to rip. Sometimes your hands will give out before the rest of your body. Keeping your hands in good shape with these tips will help you avoid painful skin.
---
Keep The Right Level of Moisture
Depending on who you ask, you may get a different answer as to whether or not you should moisturize your hands. Some climbers avoid any type of moisturizer, and others consider it an important part of their skin maintenance routine.
It's well known that you don't want wet hands to climb, and some climbers will tell you that the dryer your hands are the better your grip will be. However, there are products that will condition your hands to have strong and smooth skin, without causing your grip to become sweaty.
It's best to moisturize after climbing, not before. Wash all the chalk off your hands, assess the damage, and then apply your skin conditioner.
Most climbers prefer a balm-like conditioner that provides moisture through natural oils. These are some of the best climbing salves available that will help heal your skin and keep it healthy for your next session.
A very popular moisture salve that is based on bees wax and includes enriched natural oils like olive oil and pumpkin seed oil. It conditions and hydrates and gives your skin the much needed vitamin E.

---
An all-organic, all-natural, food-grade lotion bar with deep conditioning and anti-bacterial ingredients. This product was specifically formulated for rock-climbers and it shows in how popular it is. Plus, it really works.

---
Another powerful skin healing and conditioning salve with many lush moisturizing ingredients. It is full of natural oils that help replenish and repair your skin. This balm smells great as well.

---
Keep Calluses Under Control
While it is true that hardened skin on your hands will help you, once your calluses become too large, they will actually get in the way of your grip. Calluses that are too large also become more prone to ripping right off – the dreaded flapper.
Filing down your calluses to where they are the same level as the rest of your skin will still leave that area hardened. Follow up with a conditioning balm to heal the skin around it and you'll have healthy strong skin points at all your contact points.
You may find it easiest to reduce your calluses immediately after your shower, when they are soft. Using a pumice stone works well, and you can use fine grit sandpaper to smooth them out even more.
A pumice stone is commonly used to remove hard calluses from feet, and will do the trick on your hands as well. It's best to use in the shower after your hands have expanded with moisture. Follow it up by sanding them down to a smooth finish.
---
Designed for climbers, this dual-sided file has two different grits of replaceable sandpaper – 75-grit on one side, and a rough 50-grit on the other. It also comes with replacement pieces of sandpaper. The wood is curved to make it easy to use on your hands. It has a convenient cord attached for securing it to or inside your climbing pack or chalk bag.

---
Keep Your Nails Short
Keep a good pair of nail clippers with you to help you keep long nails from interfering with landing holds. Breaking a nail can be painful and ripping them off exposes even more of your fingertips to potential trauma. It may also help to keep your short nails filed to avoid the rough edges after clipping them. This helps you avoid snagging them and ripping them further.
These nail clippers have a wide handle with makes them ergonomic and easy to use. There is a built-in nail file to smooth out the rough edges or to even use on your calluses. Made of professional grade stainless steel, it can be safely disinfected. These are compact and sturdy, and have a nice sized hole in the handle that makes it convenient to clip onto your climbing pack.

---
Use Climbing Tape
Climbing Tape is one of those accessories that is useful in many different ways, and testing and preventing hand injuries is at the top of the list. It can cover up flappers so you can keep climbing for the rest of the day. It can help support your finger joints when you feel a slight injury is coming on. Wrapping climbing tape over top of your band-aids will help keep them in place while you climb. There are so many uses for climbing tape that it's a good idea to carry it with you at all times.
This climbing tape by Metolius is strong, 100% cotton tape with a long-lasting adhesive. It is much more flexible than standard athletic tape. It is easy to rip off when you need a different size than the full roll, and it stays on really well.

---
A different type of climbing tape that bends well and sticks to itself without an adhesive that can leave stickiness on your fingers after use. It doesn't hinder your grip as much as a smoother tape, breathes well, and stays sealed even when you get it wet.

---
Treat Your Wounds
Inevitably there will come a time that your hands take a beating. Whether it's dried and cracked fingertips, or calluses that have ripped off, you'll want to get your hands healed up as soon as you can so that you can return to climbing. The only thing you can do is wait to grow more skin, but there are methods you can use if you want to speed up your return.
The best thing to do is to thoroughly cleanse your hands, apply your favorite moisture balm, and cover them up for the night. The next day, let them air out, but keep them clean and re-apply moisture if they seem to be drying up. Stay away from climbing as long as you can while your hands heal. If you must return a little sooner than full recovery, there are options to help you last.
Liquid bandage products are adhesives that bond to your skin, providing protection until your skin can recover. Some people will cover this up with a real band-aid, and/or some climbing tape.

---
What works for some people may not work for others, so you might need to try different things to find what works for you. Finding just the right balance of dryness, moisture, and smoothness will help you grip the rock and reduce discomfort and pain.
Take good care of your hands and you'll be able to climb more!