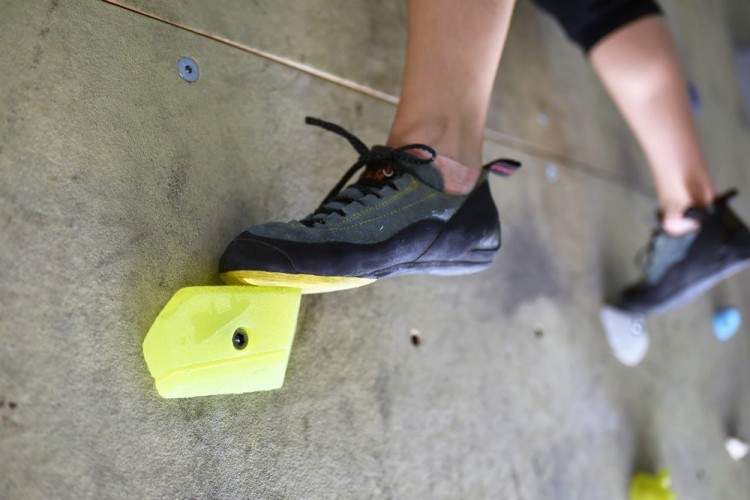 Are you looking for the best bouldering shoes? Or are you looking for a climbing shoe that will not only fulfill your needs but is also affordable? Are you looking for shoes that have been recommended by others? If your answer is "yes" to any of the above, you are in the right place.
We have rounded up some of the best bouldering shoes out there. Each one has been picked based on its unique benefits. What is common to most of these shoes is that they are affordable and very popular among climbers.
In this article, we have laid out the features and benefits of each shoe and have given a recommendation at the end showing why you might choose to buy one particular model over the others. After careful research, here are some of the best bouldering shoes out there.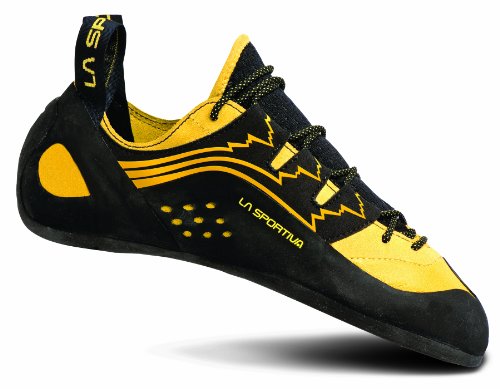 The La Sportiva Men's Katana climbing shoe is created with a hook and loop enclosure to ensure that it fits tightly on your foot when you wear it. When your shoe gives you a snug fit like this, it becomes easier to climb with ease and concentration.
Because of this, the shoe feels like it has become a part of your body and you may even forget it is there. You can just focus on climbing, thanks to the perfect fit the shoe offers.
This bouldering shoe also has a Lorica toe box to fit your toes, make them comfortable in their new enclosure, thereby giving you maximum edge power.
Pros
You can use the shoe for a variety of activities such as gym climbing, technical face climbing, and going through overhanging sport routes. Thanks to the Slingshot rand under the hood, a feature that gives you the control over your stretch for those any climbing activity.
What we liked about this shoe is that it is not necessarily used for bouldering alone. It is applicable to other sports too.
The shoe is packed with Vibram XS Edge Compound, a rubber that is resistant against sharp edges. The compound prevents you from slipping when smearing.
The shoe is ideal for smearing, heel hooking, and bouldering. The shoes also have excellent sensitivity and the rubber material is has a sticky texture..
Thanks to the creative craftsmanship and excellent Velcro system, these shoes not only look great but are also very comfortable.
Cons
The trim around the heel cup might make you somehow uncomfortable. It might meet your Achilles area, making it noticeable. However, it will not be so bad that it will spoil your mood or ruin your adventure.
The shoe seems okay for intermediate bouldering. If you are a beginner, you may want to look at the other two on this list for a less aggressive and sensitive shoe. And if you are an advanced boulderer, you may need something cooler, more aggressive and with more sensitivity. Our guide here will help you select the best (link to relevant guide).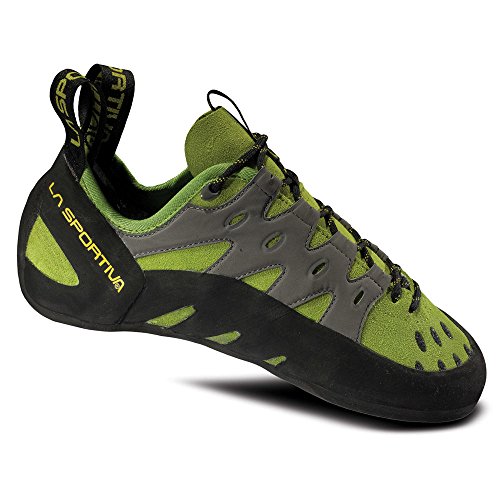 If you have been thinking about starting bouldering, the Tarantulace leather shoe is a good first bouldering shoe. The shoe comes with a lacing harness that ensures you get a snug fit that is important for a nice bouldering experience.
It also allows better grip and it is durable, thanks to the durable FriXion RS rubber on it. The shoe has a lined tongue, which closes in to your ankle to prevent moisture from entering your beloved climbing shoe.
Pros
This is a nice shoe, powerful enough to use in just about any other climbing sport. It is made with a complete leather construction so that it is soft, cushioned, and comfortable.
The shoe is high quality. It is ideal for those who are looking for shoes that will stay with them for a long time. You will be able to save the money you might have spent if you bought a cheap shoe that you would need to change frequently for your bouldering.
The Tarantulace is unlike no other. Thanks to the effective lace construction on the shoe, it fits your feet like a glove.
As you can see, this shoe looks epic. We consider it ideal for the beginner. The first item on the list is more of an intermediate shoe, so this one is perfect if you're new to bouldering.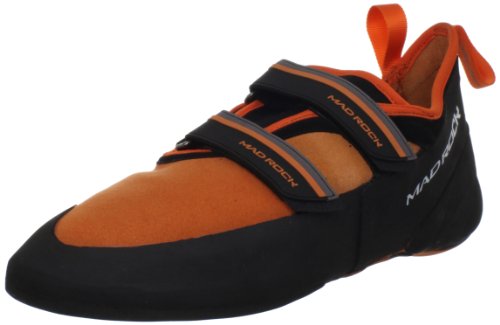 The Mad Rock Men's climbing shoe has undergone a complete overhaul, and the new version has been embraced by climbers. Why is this shoe so popular? It has made the trio of performance, comfort, and durability a soft reality – and if this is what you are after, welcome to the club.
Pros
The shoe now has Flash 2.0. First, it now comes with Shock Gel as part of the repackaging. The addition of this makes the shoe stronger, and it is able to withstand and reduce impact force on the heels. When that is combined with the hook and loop enclosure for a secure fit, you have a winner.
The shoe also has a flex that should be consistent and survive throughout the shoe's life as it is crafted with evergreen poly-carbonate midsole.
The shoe helps to combine a snug and consistent fit with great performance thanks to the inclusion of a synthetic stretch material: Synflex.
Cons
It is expensive. While the performance is great, some users feel the price should be reduced.
If you are looking for a shoe that will give you a good fit, is comfortable, and offers top performance, look no further.
Verdict
If you are an intermediate or a pro climber, you already know that bouldering is not all about the equipment you have with you. It is about your ability, the shoe you are wearing and your endurance.
If you are a beginner still learning the ropes, the La Sportiva Tarantulace Climbing Shoe is recommended for you. If you have passed this stage and are just looking for some nice climbing equipment, the best option for you is the La Sportiva Men's Katana Climbing Shoe.