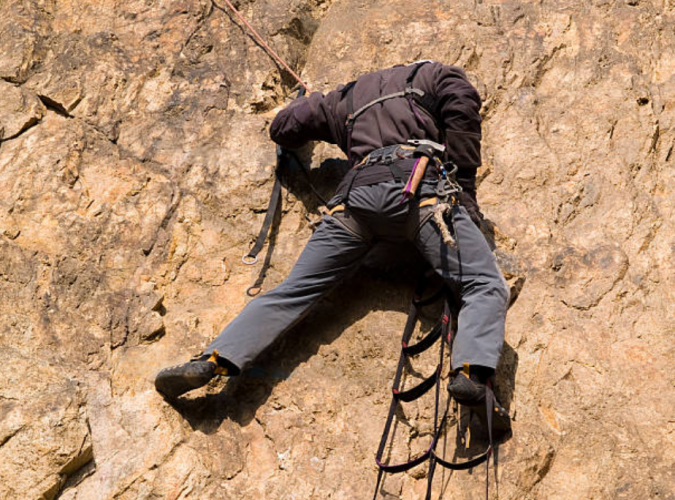 "Ascending the rope" in rock climbing is a technique also referred to as "jugging up" or "Jumaring". It is when a climber uses the rope to quickly pull themselves up, rather than using their hands and feet to climb up the rock face.
If you've ever been working your project and just couldn't seem to make it past a move, you may have become tempted to skip the crux by jugging up on the rope. Using the rope instead of handholds or a nylon ladder instead of footholds on the rock is typically not the goal when free climbing a route.
---
Free Climbing versus Aid Climbing
Free Climbing is the style of climbing that is most popular today – using only your hands and feet on the rock to make it up. Aid Climbing is done with climbers using different pieces of gear to assist them with making it to the top of the route.
Using any type of gear, or "aid" for anything other than protection against falling, removes the accomplishment of free climbing a route, and the climb is considered aid climbing.
---
When Are Ascenders Used in Rock Climbing?
Ascenders are used a lot in big wall multi-pitch. climbing, as a way to quickly ascend a fixed rope. Ascenders are the fastest and most convenient way to get to the base of a pitch that starts above the ground.
It is also common for ascending to be done by the "second" climber – the climber who is following the lead climber. This allows someone to belay you who may not be able to climb the same grade as you, and they can then follow you up without having to do the climbing moves.
Ascenders are also used frequently in ice climbing, caving, and mountaineering for progression along a fixed rope. Ascenders can also be used for self-belaying while climbing, but this is a very risky and technical use that should not be attempted by beginners.
There are many other times that you may want to ascend quickly up a rope, and lots of great pieces of gear to make it easy.
---
How do Ascenders Work?
There are 2 main types of ascenders used in rock climbing: Chest Ascenders, and Progression Ascenders.
A chest ascender attaches directly to your harness, and a shoulder strap can be used to help keep it in place just below your chest. It glides up the rope as you ascend the rope.
A Progression ascender is normally extended from your harness by a sling or a lanyard, giving you increased distance to reach up the rope. Unlike a chests ascender, a progression ascender on an extended lanyard will allow you to get above your ascender, giving you a greater risk of a fall.
Using only one ascender can be done but for safety it is recommended to use 2 ascenders, as well as a backup belay system.
---
The Petzl Ascension Gold Ascender is considered the standard in progression ascenders by many climbers. This ascender is large, but is still very lightweight, at only 165 grams.
The steel cam mechanism inside has angled teeth designed to easily grip into the rope, while making an easy and smooth ascension.
Operating it with one hand is easy with its very sturdy and ergonomic rubber handle. It is available in left handed or right handed.

---
The Petzl Croll Ascender is very lightweight and compact, without sacrificing anything in durability and ruggedness. It has self-cleaning teeth so keep ascending smoothly even in conditions where the rope may be dirty or icy.
The trigger can be easily operated with one hand, even with gloves on. There are good sized holes for attaching to a chest harness or shoulder strap, and for attaching to your waist harness. The holes are angled to keep the ascender in the right position.
This chest ascender is very well designed, easy to operate, and is very popular in a system with a progression ascender like the Petzl Ascension Ascender .

---
What is an Étrier?
Etrier is another word for what is more commonly known as an Aider. Aiders are commonly used along with Ascenders to, well, aid in the ascension. The direct translation of "étrier" is closer to the word "ladder".
An aider, or étrier, works by providing foot steps to use while ascending. Aiders can be used either with an ascender, or on their own by attaching them to an anchor point or bolt. They are helpful for down climbing as well as up.
---
The Metolius 8-Step Ladder Aider is a narrow but sturdy nylon ladder with a reinforced clip-in point. The steps are stiff to ensure that the ladder stays open while you're using it. It is 74 inches long, with 9 inches between each step.
Ladder style aiders are a very easy type of aider to get used to climbing, since the style of climbing a ladder is already familiar to most people. It might take a while to get used to the swaying but once you do you'll be able to climb this confidently and quickly.

---
The Black Diamond Etrier has an offset design, which helps in keeping the ladder from folding closed. It has a single half-step at the top, which allows you to top-step.
The side step design makes this etrier more compact to fold and carry on your harness than some of the ladder style aiders. It is also very lightweight and noticeably durable.

---
The Petzl Quickstep is a single stirrup aider that gives your foot a solid placement while jugging up the rope. It has a double-back buckle that lets you quickly and securely adjust the length.
It has a secure attachment point for a carabiner with an additional string to help hold it in place. There is also an additional loop on the free end of the webbing for attaching additional gear during placement.
This is one of the lightest and most compact aiders available. Once you get the hang of it you'll be able to get up the rope very quickly with the extra assistance that this gives.

---