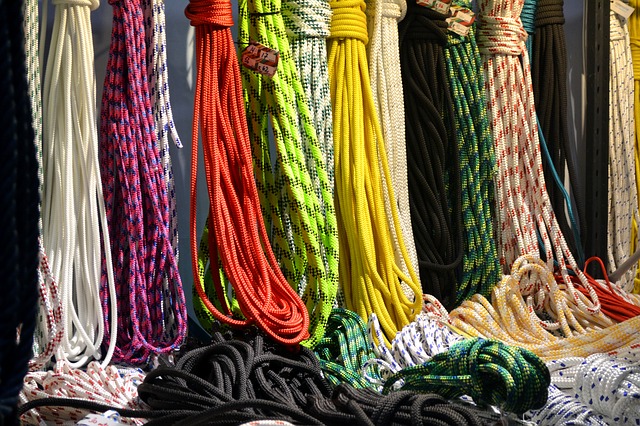 Rope used for rock climbing comes in many different sizes, styles, lengths. If you're not familiar with the different types of rock climbing ropes, check out our climbing rope buying guide for help.
Now that you're more familiar with the exact type of climbing rope you are looking for, let's take a look at the best climbing ropes available from the best climbing rope companies.
These popular climbing ropes are a great choice for any climber looking to purchase their first, or replace their existing climbing rope.
[table "14" not found /]
Best Climbing Rope for Beginners
The best climbing rope for beginners is a good all-around climbing rope that is not too heavy that it is difficult to carry and manage, yet is still strong and durable enough to take falls as they learn no climb harder and harder moves.
Beginner rock climbers are also often looking for the best climbing rope for the price. There are still quite a few good ropes out there for beginners but this one stands out as our favorite.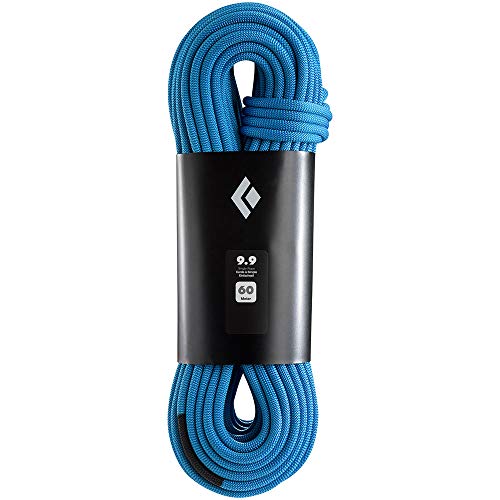 The Black Diamond 9.9 mm Meets all the requirements that a first beginner climbing rope should have. It is not too heavy and is easy to handle. It comes in many different lengths, but the 60 meter is the most popular one.
This rope also has a black middle marker which is a great feature for any first climbing rope. This is a quality rope at a very affordable price and this is the one we highly recommend to anyone getting their first rock climbing rope.

---
Best Climbing Rope for the Gym
A good gym rope should be light, and it's not necessary to get them as long as you would need for some routes outdoors. Since you're also not going to be running your gym rope across jagged rocks, you can get away with a less durable rope and find some light easy to handle ropes that you'll love using in the gym.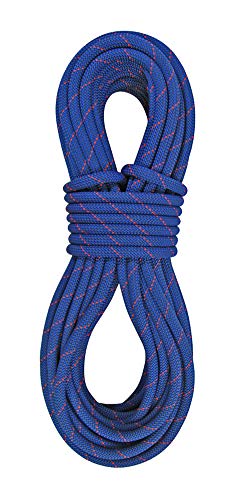 The Sterling 10.1mm Slim Gym is the perfect rope to bring to the gym. It is slim and lightweight, making it easy to carry. It is also available in 25M and 30M options, which is usually more than enough length to do indoor climbing walls at most gyms.
This is an extremely lightweight rope, and it's suitable for using as a double or half rope setup. It might not be as rugged as a rope that you will use projecting at a dirty, jagged outdoor crag, but for red-pointing at the gym, this is a great rope.

---
Best Climbing Rope for Sport Climbing
The best ropes for sport climbing are light, easy to handle, and sometimes dry treated. You'll also want something a little more heavy duty for outdoor sports routes than you will as a beginner or for in the gym.
Many popular sports climbing ropes come with special treatments to make them less prone to wear at the crag and withstand moisture you might encounter at the crag.
The Sterling Evolution VRT9 is a high performance dynamic climbing rope perfect for endless sports climbing projects. This rope is perfect for outdoor crags with its Drycore technology to prevent particle abrasion and moisture absorption.
This rope is available in 60 or 70 meters, long enough for most of the longer sports routes. It looks great in Orange or Neon Green, and this rope has a middle mark.

---
Best Climbing Rope for Top Roping
A good rope for top rope is one that can withstand a lot of time hanging around. The dynamic elasticity isn't as important for top roping because you are not taking big factor falls when the anchor is at the top.
Those setting up to top rope will want a rugged and durable rope for anchoring, that is still easy to manage for belaying.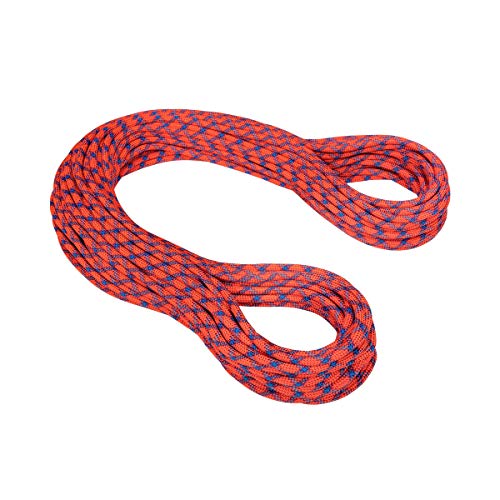 The Mammut 9.8 Eternity Classic is a versatile rope good for a variety of applications. It has just the right amount of elasticity to make catches feel smooth, while still feeling very durable.
This is a great all-around rope that is popular for top-rope due to how easy it is to handle. It also come with a rope bag that has a built-in tarp, buckle closure, and a shoulder strap for carrying.

---
Best Climbing Rope for Outdoors
When purchasing a climbing rope that you're going to be using for outdoors, it's often dependent on the height of the routes that you will be climbing. Having too short of a rope may limit you, but having a longer rope than necessary will cause unnecessary weight and room that you're porting in and out of the crag every time.
Whether or not you choose a rope with dry treatment or not depends on where you're climbing as well, but it's a great idea since wet can happen unexpectedly, plus keeping dirt and other messes are also helped by a treatment on the rope.
The Petzl Contact is a versatile rope with the perfect balance of weight, durability, and handling. It's a popular rope for performance climbing outdoors since it handles so well and has a great soft feeling for catches due to its high elasticity.
This rope is smooth, durable, not overly heavy, and it's almost the perfect rope for any occasion. This is probably why we see it in use at almost every outdoor crag.

---
Best Rope for Winter Climbing
Winter climbing brings even more requirements to the type of rock climbing rope that it's best to bring. You definitely need a rope that can stand up to the elements for winter climbing. Dry treatments are a must, and durability is at its utmost importance.
The best ropes for winter climbing are usually heavy duty rope so when a slick fast dry treated rope becomes popular, it's usually because it's lighter. Half rope and twin rope setups are common as well, so the range of with and weights ice climbers carry varies greatly.
The Black Diamond 7.8MM FullDry is a tough rope that is slim and easy to handle. It's used in a half or twin rope setup. These are really popular with ice climbers because of how efficient they are too carry and slick to use. This rope stays very dry in even the harshest elements.
---
Best Rope for Canyoneering and Rappelling
Fixed lines are often easier with a more static rope as well. These needs are very different than the rock climbers using ropes for protection on falls, which needs to have a more dynamic catch in the rope. Canyoneering involves lowering and steadying yourself up and over dangerous edges and sometimes ledges. Rock climbing ropes are tailored to these activities as well.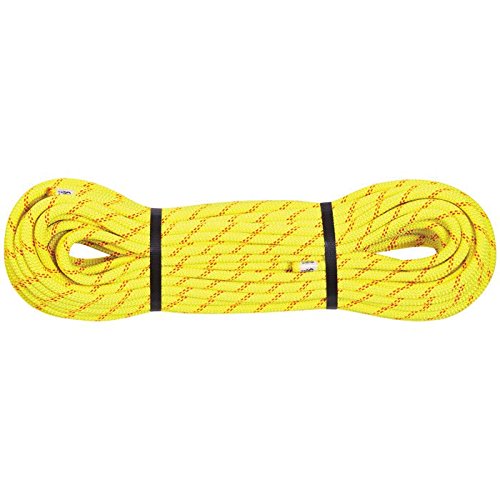 The Edelweiss Canyon is a best selling static rope used all over in activities closely connected with rock climbing. Such as exploring rock and cliff formations, canyoneering, repelling, fixed lines, and lots of activities where you're not taking the impact of a large fall with the rope. This is a great rope that is rugged and reliable and will make the perfect adventure.
---
Best Climbing Rope for Big Wall Climbing
The toughest ropes are used for big wall climbing, as there are so many different situations and ropes and other gear that are going to come in to play in the big wall environment. Climbing, leading, projecting, hauling, rappelling, securing, swinging, the versatility of most big wall climbers involves so many ways to use a rope.
The Tommy Caldwell DuTec Pro was designed to be able to handle anything you throw at it in a multi-day climbing situation. It stays dry and has a very tough sheath protection to protect it on the big wall. It has a great middle pattern separation that makes it visible even in bad lighting.
This impressive climbing rope was developed with Tommy Caldwell to be ideal for working big wall routes, and to use an environmentally conscious process to manufacture them compared to most standard ropes.

---
Most people's rock climbing adventures are different from the next, and rock climbers can require different ropes for different situations.
Learn more about climbing ropes by checking out our climbing rope buying guide, or, take a look at how climbing ropes are made and tested.
These have been our favorite climbing ropes, now we'd love to hear about your. Let us know what your favorite climbing rope is and what you use it for.