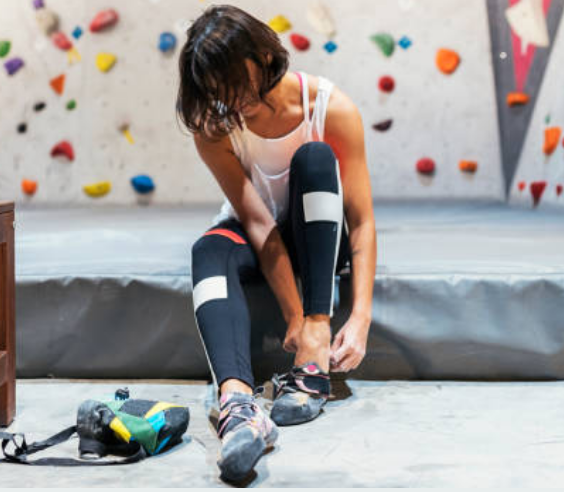 The best women's climbing shoes are often made very similar to the male or unisex version of the same shoe. Slight adjustments are made to accommodate thinner feet, longer toes, smaller heels, and sometimes higher arches that are common among women.
A lot of the variations in women's climbing shoes are subtle and nothing about them is gender specific. Women are not limited to women's versions of climbing shoes, and likewise, certain men may find certain features fit them better in the women's version as well.
---
Best Women's Climbing Shoes For Narrow Feet
Narrow feet are something that is a lot more common in women with feet of the same length as men. Foot width is the most common sizing difference in between men and women's versions of shoes that have different gendered models.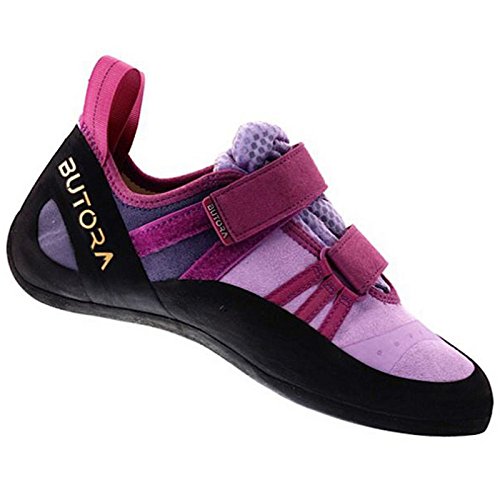 The Butora Women's Endeavors have a lower cut on the heel than the male version, and their fabric and straps allows it to be pulled tight across more narrow feet. They also come in both a wide fit and a tight fit version for women.
These narrow fit climbing shoes are comfortable, and the inner webbing allows them to get a really snug fit especially to narrow feet. They have a sticky rubber sole and a split-leather foot bed.
Best Features:
Sticky rubber toes
Foot conforming fitting
Very comfortable
Possible Issues:
Fits tight, sizing runs small
Not a great bouldering shoe for steep holds and heelhooks

---
Best Women's Beginner Climbing Shoes
Women who are new to climbing will likely be choosing a good women's beginner climbing shoe based on comfort, affordability, and versatility.
To find the best entry level climbing shoes for women, we need a shoe that fits well and works great for a lot of beginner to intermediate climbing, while being priced low enough to make getting into the sport considerable.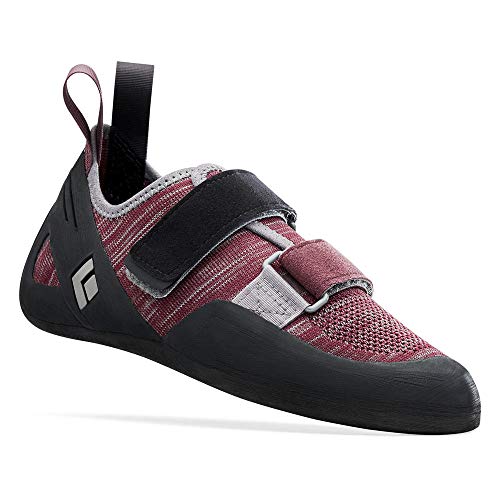 The Black Diamond Momentum Women's Climbing Shoes are durable with a flat toe and flexible midsection. They are perfect for all day climbing and all day comfort.
The Momentums aren't as much of an investment up front as some of the other brands for beginners, but these provide an excellent value for the price.
Best Features:
Excellent ventilation
Flexible rubber
Flat foot comfort

---
Best Bouldering Shoes For Women
A good woman's bouldering shoe is designed to make the most out of her performance. The best women's bouldering shoes have features that make difficult edges easier to stick with aggressive downturned toes, and make heel-hooking feel more secure with sticky rubber 3d heels.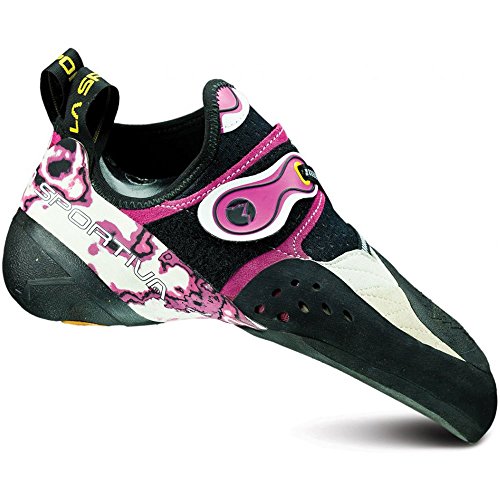 Solutions have been a very popular bouldering shoe long since before they started releasing a version of the shoe with closer to women's foot sizing. They are popular in competition style bouldering and indoor bouldering gyms.
La Sportiva Women's Solution Climbing Shoes are made to really nail those high performance bouldering moves with their aggressive downturn, sensitive rubber soles, and precise toe rubber. They also have slender foot sizing, and a comfortable fit after the break-in period.
Best Features:
Aggressive downturn
Sensitive rubber soles
Precise toe rubber
Comfortable after break-in period
Possible Issues:
Long break-in period
Fits to a specific foot shape
Expensive
Aggressive fit not the best comfort for all-day climbing

---
Best Sports Climbing Shoes For Women
Sports climbing is more based around endurance and technical moves rather than the popular bouldering style of giant bursts of power and dramatic moves on steep overhangs. It is also more common to spend a lot more time in your shoes as sports routes are a lot longer than most bouldering routes.
The best women's sports climbing shoes are designed with comfort in mind, while still offering technical features to assist in intermediate to difficult holds that you'll experience on different sports climbs.
These women' climbing shoes have a narrow fit around the heel, and a slightly aggressive toe. The toes are designed to pull back towards the heel for more power and precision. The thick rubber sole is supportive and flexible while being thick and comfortable enough to support full days at the gym or the crag.
The mesh tongue and suede toe makes these shoes comfortable and breathable, and the double velcro straps adjust to the shape of your foot. If you're looking for a good women's climbing shoe perfect for longer sports climbs, the Scarpa Women's Vapor V Climbing Shoes are a perfect fit.
Best Features:
Narrow fit in the heel
Great rubber soles and sticky precise toes
Downturned toe but versatile enough for all styles
Possible Issues:
Takes a long time to break in
Not as comfortable as beginner shoes
---
Best Laced Climbing Shoes For Women
While it's no doubt that velcro straps are very common in rock climbing shoes, some women still prefer the tighter fit of laces to velcro. It can take a little bit longer to get in and out of laced climbing shoes, but if your foot is more narrow, which is common sizing for women, laces allow you to get a tighter fit along the whole length of the shoe in the places that need it.
The best laced climbing shoes compensate for the extra time it takes to lace up by being more comfortable and lends itself to longer climbs and longer days without switching between rock climbing shoes and regular shoes as often.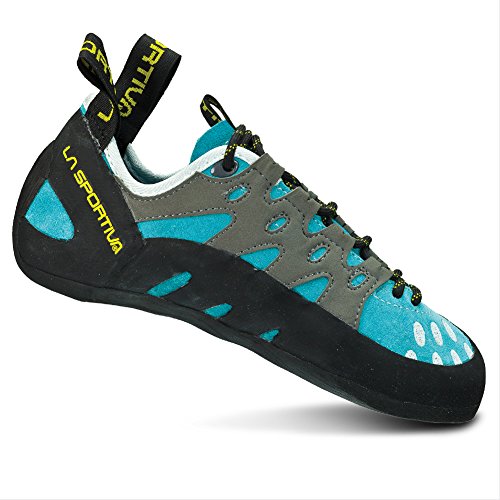 This is a very comfortable shoe, with a flat shape, that is useful for a lot of different styles of rock climbing. It is an excellent shoe for beginners and intermediates alike. The leather upper is soft and comfortable, and the tongue has a wicking system to help keep ventilated.
The lacing system is easy to pull and the tension it creates on the shape of the shoe will make these feel like an extension of your feet. It's easy to see why the La Sportiva Women's TarantuLace Climbing Shoes are such a popular laced shoe for women.
Best Features:
High volume heel
Sticky grippy rubber
Precise toes
Comfortable flat shape
Easy adjustment for tightening lacing system

---
Best All-around Climbing Shoe For Women
It's possible for women to find a climbing shoe that has a little bit of everything and is not specialized towards any one style of climbing. These can make a great option for all levels of climbers.
With equal parts comfort, performance, and a reasonable price, there are a lot of great climbing shoe options for all around versatility. We looked at the most popular shoes and found that people appreciated a solid shoe that can be used in many different styles of climbing with good overall value for the cost.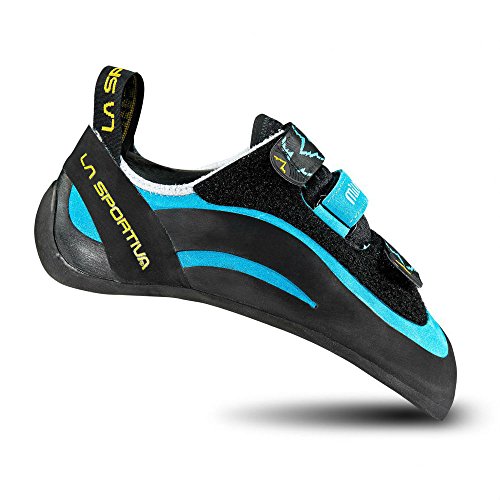 The La Sportiva Miura VS Women's Climbing Shoes excel at practically everything you could want in a climbing shoe. These are great shoes for technical climbing, slab, pockets, steep bouldering, overhangs, you name it. They are also extremely comfortable for such an aggressive toe.
These shoes are also very easy to pull on and tighten, and to undo and change out of. They are sensitive underneath the foot and the toes are precise. We can't think of a bad thing about them and highly recommend these shoes to all women looking for a powerful and comfortable all around climbing shoe.
Best Features:
Easy on and off
Stretches and warps very little
Sensitive rubber soles
Aggressive Downturn
Comfortable

---
Best Budget Women's Climbing Shoes
Last but not least, one of the most important things new climbers are looking for when it comes to equipment, is affordability. You don't want something so cheap that it's not worth using, but there are great options that won't break the bank.
Climbing shoes are something you will go through if you keep on climbing for years to come. If budget is the most important thing, you can still find decent performing shoes at the lower end of the price point.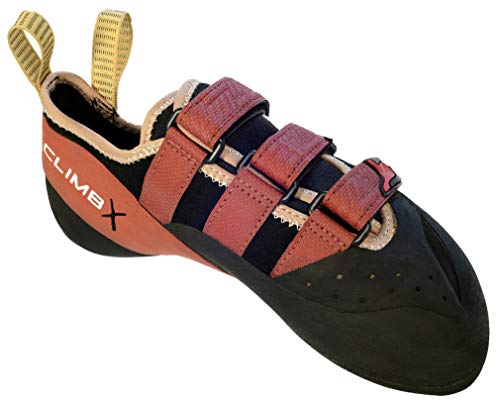 The Rock-It NVL by Climb X are a solid performing pair of women's climbing shoes that come at a really affordable price compared to both beginner and other shoes at their level.
These shoes are great for more advanced footholds, and are great bouldering shoes. You can also use them for all different styles of climbing. This is a great value climbing shoe that will last a lot longer than most shoes in the similar price range.

---
It can be difficult for any climber to find the right fit in climbing shoes so they feel completely trusting in their feet. It can sometimes be even harder for certain women who have narrow feet or smaller heels than a lot of the men and unisex sizing available.
There are a lot of great shoes that are more likely to fit a women more securely and we hope you've enjoyed taking a look at them with us.