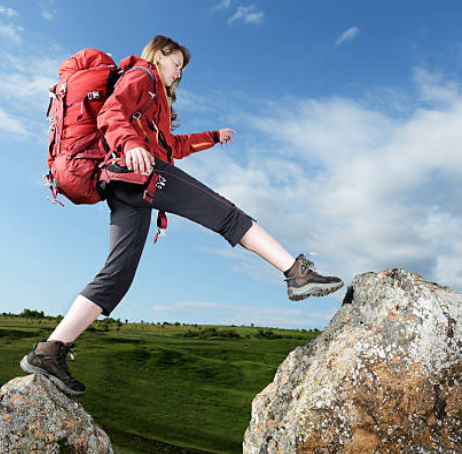 What is an approach shoe?
Approach shoes are a cross between a hiking shoe and a climbing shoe. They usually have stickier rubber soles than a standard hiking shoe, since the terrain you will be walking on or "scrambling" through as you get to the crag will often be rocky.
There are shoes designed by the big climbing companies specially for approaching the crag. Some of our favorite approach shoes are easy to slip in and out of, making them convenient for belaying in in between climbs.
It is common for approach shoes to have a loop on the heel so that they can be easily attached to the back of your climbing pack or your harness. Some approach shoes even look great, and you can even wear them around town, which isn't always the case with a lot of hiking gear.
---
Are approach shoes required for outdoor climbing?
It's usually fine if you choose to hike to the crag in a regular shoe, trail runner, or hiking shoe as well. Approach shoes simply offer you the best of both worlds. It is usually possible to do a bit more climbing in approach shoes before having to switch to your actual climbing shoes.
If you think you need or want a pair for your outdoor or indoor climbing, take a look at some of the best approach shoes available.
---
The Arakys Approach Shoe has so many great features. They are very comfortable, and with their laceless design they are fast and easy to put on and take off. Doing them up with a their strap and hook closure allows you to tighten them to just the right fit.
These shoes are lightweight and flexible. The soles have very good traction, and although they are fairly thin, they are thick enough so that they won't wear out too fast on very tough terrain. If you are looking for a lightweight and flexible shoe with good leather, you will probably want to choose this pair.
They are available in Men's and Women's sizes. They tend to run a little small so don't count on being able to wear thick socks with them unless you go half a size up.

---
The La Sportiva Boulder X Approach Shoe is a rugged and durable approach shoe that can handle very rough approaches. They have extra cushioning in the footbed and midsole.
The unique lace-up system goes all the way around the back of the heel, and it helps to ensure that the tongue doesn't slide.
This is a stiff-soled shoe with very sticky rubber that will give you enough grip to even do some light bouldering. If you are looking for an approach shoe with a lot of support, these are great.
They are available in Men's and Women's sizes, and their sizes tend to run true to size or small.

---
The Salewa Wildfire S GTX Technical Approach Shoes are a highly recommended pair of approach shoes with many high end features. They are made with a GOR-TEX® membrane, giving them waterproofing and windproofing.
These shoes are very comfortable, and they even include an adjustable footbed with a three-dimensional insert to adjust the volume and width to get a perfect fit. They offer a blister free guarantee, which is a huge statement to make.
The sole is very supportive, the traction is excellent, and they are built to last.
They are available in Men's and Women's sizes, and the sizes tend to run true to size or small.

---
The Five Ten Guide Tennie is a very popular approach shoe that has a great all-around design. They are fairly light, even though they are not as sleek of a shape as other shoes. The shape of the toe is similar to a climbing shoe. The sticky rubber and excellent traction make these excellent shoes for balancing on edges and cracks.
These shoes are also very comfortable, and have a high level of water resistance. If you are looking for a great approach shoe that is reasonably priced and very durable, these are an excellent choice.
They are available in Men's and Women's sizes, and the sizes tend to run true to size.

---