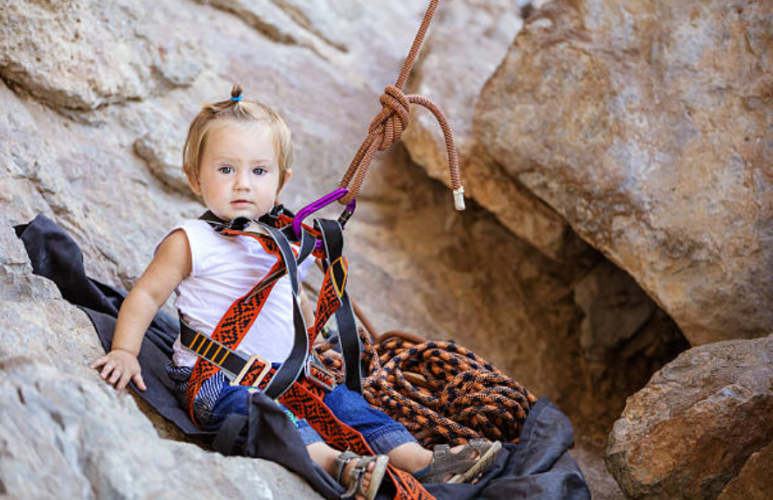 Children are natural born climbers. Instead of teaching them not to climb, we believe in teaching them how to climb safely. Introducing your child to rock climbing will give them an opportunity to learn, stay fit, and could lead to a lifetime of fun and adventure.
Since there is not as much gear available for kids as there is for adults, it can be hard to find rock climbing gear for your little ones. However, there are some great pieces available that are designed for children.
Having real gear will help your child feel like a real climber. Let's take a look at the best climbing gear available for kids:
---
Best Children's Climbing Harnesses
Even before you child is ready to start climbing big walls, it can be helpful and fun getting them used to being in a harness and dangling from a rope. You can let them learn how to hang, teach them the safety checks, and increase their comfort with heights.
Small children have different body and weight proportions and should use a full-body harness rather than just a waist harness. Attaching the rope at a higher point on their body will distribute their weight more evenly and help keep them upright in case of a fall.
The Elderid Fraggle III Children's Climbing Harness is one of the most popular and best-selling children's harnesses. It is a full-body harness with great padding that is very easy to use.
One of the best things about this harness is that it doesn't get tangled when you pack it, and it doesn't have loads of extra unsecured strap lengths dangling.
This harness is very easy to adjust with buckles that glide in to place. It also has an extra loop on the back for other types of guiding and securing of your child as they climb, or making it easier to lower them since children are so light.

---
The Petzl Kids' Macchu Body Climbing Harness is a padded shoulder harness that is used in combination with a regular seated harness (shown with the Petzl Macchu Children's Harness ). It is sold separately but is not intended to be used without a seated harness. The rope is fed through both the shoulder strap loops and the waist loop.
This combination of a regular seated harness and a separate shoulder strap has many benefits. First of all, it is very easy to get the shoulder harness equipped. Once your child outgrows the need to have a full body harness setup, they can still use the seated harness by itself.

---
Best Rock Climbing Helmets for Kids
Wearing head protection is very important for children, especially if you are going to be taking them outdoors climbing. It can be difficult to find a helmet small enough to get the proper fit on your child's head while also providing the safety standards for rock climbing.
Most bicycle helmets are not certified for climbing, but there are some climbing helmets that are certified for biking.
The Petzl Kids' Picchu Helmet is designed to meet U.S. and European safety standards for both climbing and biking. This popular children's helmet is suited for children between 3 and 8 years old with a head circumference of 18.9 – 21.3 inches.
It has great ventilation, and foam padding that is removable for washing. It's available in both violet and blue.

---
The Elderid Shield II Kids' Softshell Climbing Helmet is a very lightweight helmet designed for kids with a head circumference between 18.8 – 22 inches.
This helmet is easy to adjust to get the perfect fit. It is well ventilated, has removable padding, and it even comes with spare pads.

---
Best Climbing Shoes For Kids
Very young children can climb in their regular shoes, since they won't be at the level where the sticky rubber really effects them for a while. However, as soon as they can fit into some of the smaller kids sizing, there are some great options available that are really comfortable.
Children's climbing shoes are not aggressive, and do not need to be fitted too tightly. It is best for your child to find them a comfortable pair of climbing shoes to help them learn their footwork.
The Evolv Venga Kid's Climbing Shoes have a unique heel strap that allows the size of the shoe to be adjusted at the back. You can buy them up to a full size larger and eventually loosen the straps as your child's feet grow.

---
La Sportiva Stickit Kid's Rock Climbing Shoes are comfortable shoes with a wide fit. They have an adjustable hook-and-loop closure to make their size adjustable. The lace is closed by a velcro strap that is very easy to operate.

---
The Mad Rock Kids Mad Monkey 2.0 Climbing Shoes are a very comfortable shoes for kids with a thick, durable easy-to-use fastener. They also have an adjustable sizing strap at the heel. They tend to fit more narrow feet better so they are great for smaller feet.
---
Child Sized Chalk Bags
Chalk bags for little hands have smaller openings that probably won't fit adult hands. They make a great addition to your children's growing climbing gear collection, and will make them feel like a real climber.
The Mad Rock Kid's Chalk Bag is the perfect size for children and although it has a small diameter at the opening, it holds a lot of chalk. It is available in 3 different colors. It does not include a chalk brush or strap to hold one, so if it's really a necessity you may want to go with a different bag.

---
The Elderid Bandit Kids' Chalk Bag is lightweight and sized specifically for kids. It comes in two different colors with different cute animals on them. It does include an elastic loop to hold a chalk brush, but does not come with one.

---
The Evolv Graphics Kid's Chalk Bag is a little chalk bag designed to fit children's hands of 3-8 year olds. It features a brush holder, belt, and comes in 3 unique prints – stripes purple, sunrise white, and tie dye red.
---
Climbing Holds For Toddlers
Building your child their own rock climbing wall, or even just a panel on their wall, can be done inside or outside. It will give your child lots of practice, and bring them loads of fun. You can use them on playground equipment instead of stairs or a ladders, or mount a panel to get them up to their tree-house.
This set of Alphabet Rock Climbing Wall Hand Holds is great for small hands. They are also helpful for very young children who are still learning their alphabet. These attach to t-nuts in climbing panels, and come with the bolts.
---
These Dinosaurs Climbing Holds (5 pack) are unique climbing holds that kids will find interesting and exciting. This set of 5 come in different earth-toned colors, and includes 5 indoor rated bolts and 5 t-nuts.
---
Now you have a pretty good idea of the various gear available for children. Climbing with your kids is an activity that you both can enjoy together, and we hope this helps you get them geared up like a pro.