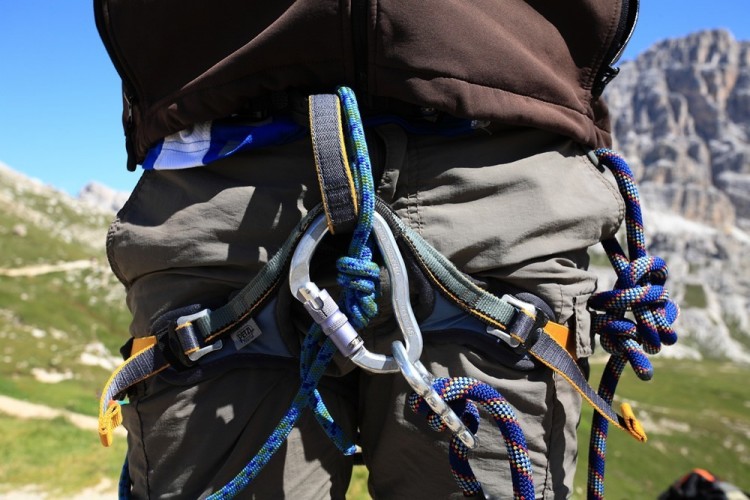 What are the differences between all the different climbing harnesses?
Choosing your first climbing harness can be overwhelming. The different climbing harnesses available have different features, and you may not know which features are important to you yet.
To get to know what to look for when choosing a climbing harness, consider these common differences:
Leg Loops
Fixed leg loops will sit in the same place on your thighs, and are quicker to put on and off. They are often made of material that stretches slightly. They also tend to be less bulky because there are no additional straps or fasteners attached to the loops.
Adjustable leg loops allow you to fit the harness perfectly around the most comfortable part of your thigh. It might take more time adjusting when you get into or out of your harness, but they are often preferred by people who have smaller or larger than average thigh size.
Padding
Comfort around the waist and legs is important when falling, hanging around, and being lowered down from the wall.
More padding can mean that the harness will be bigger and heavier, but padding is generally a personal preference and doesn't affect the safety ratings.
If you're using the harness for relatively short periods of time and don't plan to be hanging around in it all day, harnesses without padding are fine and generally less expensive.
Gear Loops
Most harnesses will have at least 2 gear loops, many have at least 4, and you can find harnesses with 6 and more.
If you're climbing outdoors you'll likely want at least 4 to hold all your gear. A rear haul loop at the back is also a nice additional feature. There are harnesses with full-strength rear haul loops that can be used for hauling an extra rope, and there are harnesses with thin rear loops suitable for clipping in your chalk bag.
Some harnesses also have additional slots called ice-clipper slots that allow you to attach more gear, which is mostly used when ice climbing.
Waist Size
The fit of your harness around your waist is important to be snug enough so that it does not go below your hips.
Harnesses will generally list the adjustable size range for each size that they come in.
Weight/Bulk
Padding, size, gear loops, all effect the weight and bulkiness of your harness.
Some people won't mind a bulky harness, but a lot of people prefer to stay as light as possible when they are climbing. It all depends on the compromise to find exactly what type of harness you're looking for.
---
Top Climbing Harness Brands
The most popular climbing gear brands all offer great climbing harness options. The best way to keep up to date on this years latest harnesses is to check out the companies' sites directly.
---
Best Climbing Harness for Beginners
As a beginner, you're likely going to want a harness that is light, flexible, affordable, and easy to use. It's best to look for a harness with good basic features, that will last you until your preference and style starts to develop.
Leg Loops: Fixed
Gear Loops: 4 plus 1 rear haul loop
Waist Size: 36 to 39 inches
Weight: 12.5 ounces
The Black Diamond Chaos Harness is very comfortable, lightweight, and easy to put on and take off.
It has a soft, padded, mesh interior to help wick moisture away from your waist and thighs. It's great for the gym, but it also has enough gear loops to deal with carrying your gear and even a 12 kN-rated rear haul loop. The front gear loops are great because they are oversized, making it easy to attach and remove your gear. It's an excellent choice for any beginning gym or outdoor climber.

---
Best Harness for Gym Climbing
If you're climbing primarily in the gym, having a harness that supports carrying extra gear and hauling ropes isn't going to be a big concern. You will probably want a harness that is quick to get set up, and compact.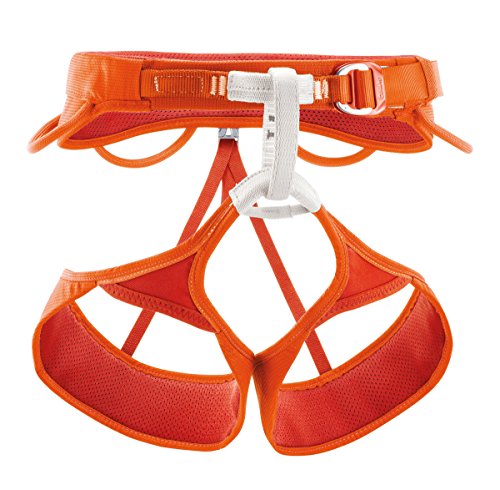 Leg Loops: Fixed
Gear Loops: 4 plus 1 rear haul loop
Waist Size: 30 to 35.5 inches (medium)
Weight: 13 ounces
The Petzl Sama has fixed leg bands but they are very stretchy and comfortable. It is a popular harness for men because it doesn't crowd the groin area, it distributes pressure evenly, and feels very supportive. This harness is also light, compact, and easy to get into and out of. Because of the fixed leg loops, it's important to get the right size for your measurements and it will fit true to size.

---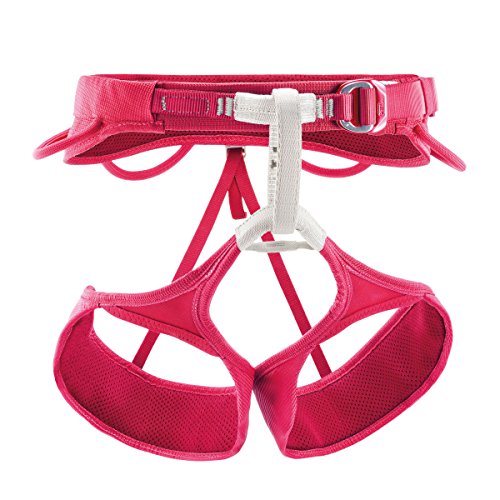 Leg Loops: Fixed
Gear Loops: 4 plus 1 rear haul loop
Waist Size: 30 to 35.5 inches (medium)
Weight: 13 ounces
The Petzl Selena was designed to fit a woman's torso with a wide waist belt. It is easily adjustable, with fixed leg loops that are very comfortable. The padding is thick and breathable. Just like the Sama, it comes in multiple sizes for the perfect fit. The raspberry color is very bright pink so it's great if you love that color.

---
Best Climbing Harness for Big Guys
It can be hard to find harnesses that come in bigger leg and waist sizes but some of the best harnesses do. Finding a harness with good padding and weight distribution and comfort is of great importance.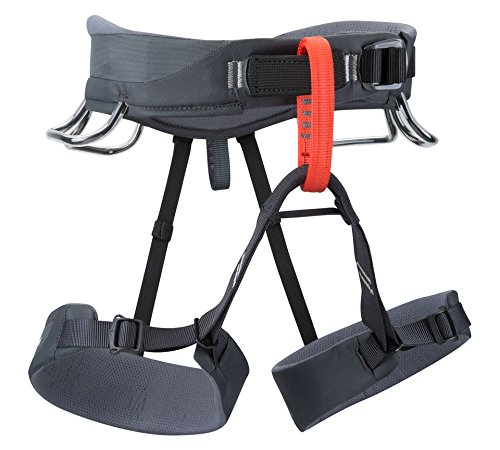 Leg Loops: Adjustable
Gear Loops: 4
Waist Size: 40 to 45 inches (XXL)
Weight: 21 ounces
The Black Diamond Momentum is a very solid and durable feeling harness. It has adjustable leg loops that stay in place great, and the waist band has a buckle that makes it easy to get on and fit securely. It is a great looking harness and well designed to evening distribute your body weight. It is available in 7 different sizes from XS to XXL so it is popular with all sizes of climbers.

---