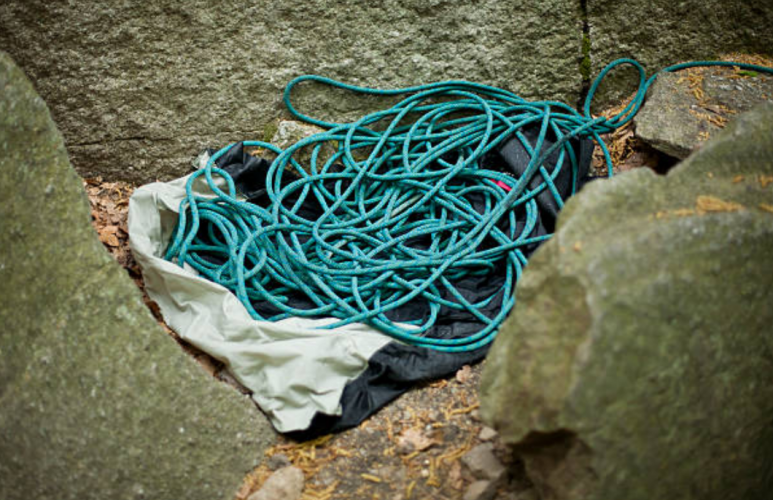 The most obvious use for a rope bag is to have a convenient way to carry your rope and even to store it in between climbing sessions. If you are mainly climbing at the gym this may be your only reason for needing or wanting a rope bag.
If you are climbing outdoors, you are likely going to be setting up at the base of a climb where there is dirt, or sand, or even mud.
Keeping your rope out of the dirt while you're belaying will help you reduce the wear and tear on your rope. You're probably going to get some dirt on it, but not having to set it down directly on the ground is going to help. Keeping your rope clean while you're outside belaying is where a good climbing rope tarp becomes useful.
---
Rope Bags vs Climbing Rope Tarps
Why would you use a tarp instead of a rope bag? Why would you prefer a rope bag over a tarp? Do all rope bags have tarps? Do you need both?
These are all common questions when trying to decide between a rope bag, a climbing tarp, or even between some of the products that blur the line between both. The best way to answer these questions is to take a look at what you plan to carry in it and how you plan to carry it.
A simple rope tarp is more than enough to keep your rope clean when climbing outdoors. Some of them have straps that allow you to carry them like a bag. Some don't, but fold up small and take up very little space and weight in your climbing pack. There are advantages to both.
In the cases where you don't need to bring much other gear other than your rope, a small rope bag will be good. Larger rope bags allow you to stash other gear inside them too, or longer ropes.
Finally, there are rope bags that also include a tarp inside them that is normally attached to the inside of the bag. These are the most complete solution for outdoor climbers. However, if you prefer to carry your rope inside a larger climbing pack, then it may be overkill to have such a large bag, which will generally weigh more than a simple tarp.
---
Although we are going to show you some products that are both tarp and bag together, the main idea of a basic tarp is that it can fit into or attach to your climbing pack. A rope bag can also fit into your climbing pack, but it will add a lot more weight than a tarp. Rope bags are intended to be carried on their own since they are designed like a complete bag.
---
The Best Climbing Rope Tarps
There are many simple solutions available to use as a simple tarp for keeping your rope off the ground. Climbers make use of blankets, mats, plastic sheets, tent tarps, and many other easily available pieces of materials for this purpose.
There are also lots of cool tarp and tarp-like options created specifically for climbers by climbing companies, which are designed with this purpose in mind. Climbing tarps will usually have a tie-off for your rope, because digging around for the end of the rope isn't always easy when you're getting set up. They are also designed to easily fold over and cover your rope, making it quick to port it between climbs when you aren't packing everything up into your pack.
The Pure Grit Ground Tarp measures 5 feet by 4 feet. It's more than enough room to handle your rope, and it can be used for other purposes too. It works great for quickly covering all your gear if it starts to rain, or as a clean spot for you and your climber friends to sit.
There are webbing loops on all 4 corners, and 2 extra ones on the sides, to give it many possibilities for hauling it around and attaching it to the outside of your climbing pack. One of the corner loops is color-coded (yellow) to make it stand out, which is used for tying off the lead end of your rope so that you can find it quickly.
It is made of a very lightweight nylon material, and folds up very small to save space and weight when not in use. Although it is very simple, it is very good quality, durable, and waterproof.

---
The Trango-Cord-Trapper-Rope-Trap is a climbing rope tarp with a great design including a hook and loop strap that can be tightened once it's rolled up. It measures 5 feet by 4 feet when lying flat, enough room to easily store up to an 80 foot rope.
The tarp itself is well-designed: thick but not bulky. There are 2 different colored tie-off loops for each end of the rope. It does the job of keeping your rope clean when in use, and untangled when cinched up. It slides easily into your climbing pack once its rolled up and fastened.
This rope tarp has a simple design and is easy to use. One of the greatest things about it is also how affordable it is.

---
The Best Climbing Rope Bags
Climbing rope bags are often tarps disguised as a bag, or they are bags with tarps attached to the inside. The tarp feature of a rope bag gives you the same benefits as using any tarp, but the added structure of a bag usually makes things a bit easier and more sturdy.
A well designed rope bag is usually more durable. Usually you will not be using a rope bag when you intend to carry your tarp inside of another climbing pack, although there is no rule against doing that. There is often room to store additional gear inside a rope bag, so they give you a lot more flexibility than simply using a tarp.
Rope bags also come with different carrying strap options. Some have a single courier-style shoulder strap, which is nice for when you've got another pack on your back already. Some have shoulder-straps like a backpack, which is easier to carry for longer distances, but means you probably aren't carrying much else in it other than a bit of gear with your rope.
The Black Diamond SuperSlacker Rope Bag is essentially a 5 foot by 4 foot rope tarp, that has a full zippered enclosure. It zips up to seal like a bag, and then it is folded over and fastened with the attached buckled straps. It has a courier-style shoulder strap with good padding.
The top of the bag closes by a drawstring cord, and it also has two compression straps on the sides of the bag. This bag is very compact once it is zipped and closed and cinched. It doesn't have a lot of extra room for adding much gear besides your rope, but it is great for those that want to keep things light and still have a quick and easy way to fold up and carry their rope.

---
The Black Diamond Super Chute Rope Bag is a sturdy and roomy rope bag. It has a long shoulder strap with excellent padding to make it comfortable to carry.
There are also two tie-off loops inside the bag to keep track of your rope ends.
This rope bag has a 5 foot by 4 foot rope tarp attached to the inside of the bag, which folds out when you open it. It also makes it very quick to pack up the rope when you're done, by first wrapping it into the tarp and then easily sliding it into the bag.
There are also two compression straps that hook and loop and can then be cinched tighter around the bag when it's packed. This is a great quality rope bag with a nice roomy tarp that is easy to load and unload.

---
The Metolius Dirt Bag II is a very popular rope bag with a sleek looking design. It has a full-zippered enclosure, and a single shoulder strap for courier-style carrying. It also has two tie-off loops for keeping track of your rope ends.
The included tarp is a little smaller than some of the other popular rope bags, but it is still more than enough room to hold even a 70 meter rope. It is also available in two great colors: blue and limestone . This is a very easy to use rope bag solution and it is very lightweight and compact.

---
Whether you choose a tarp or a rope bag, or something in between, you'll be extending the life of your rope, and helping to keep your hands and the rest of your gear cleaner.
If you haven't found the right solution yet, we think you'll be happy with any one of these, depending on your intended use. If you are using one of these tarps or rope bags, let us know what you think of it!