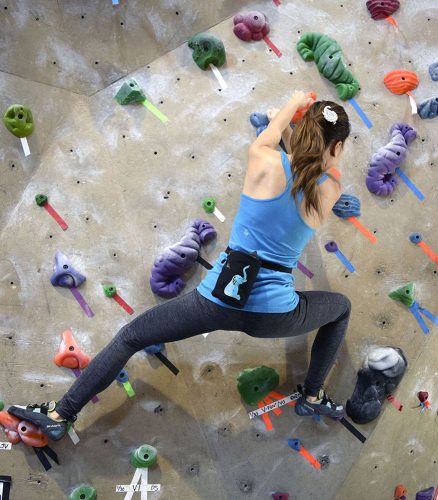 Carrying chalk is a requirement for your sweaty hands, but that doesn't mean you can't find special looking chalk bags to help express yourself.
Are you bored as we are of all the same logo-ed chalk bag holders clipped to the back of everyone's harness? We found some really great chalk bags that are both functional, and great conversation starters. Adorable chalk holders like these will not only carry your hand-drying materials, they will also make you and others smile.
---
This chalk bag features a cute and colorful design inspired by the popular video game Among Us, with a crewmate character.
The chalk bag is made from a premium soft covering material that looks great and is satisfying to the touch. It has a drawstring closure that keeps chalk secure inside and a wide opening that makes it easy to access the chalk when needed.
The bag also has 2 convenient belt loops that allows climbers to easily attach it to their harness or waistband, and it comes with an adjustable waist belt for added versatility. Additionally, the bag has a zippered pocket on the back for storing small items like keys or a phone.
The Among Us Crewmate Chalk Bag is a fun and functional accessory that will add some personality to any climber's gear collection.

---
Floyd is fuzzy, cuddly, silly-looking, and adorable. Made by 8B+, they also assure us that Floyd is trustworthy, loyal, and sweet-natured. They also make a variety of other creatures into chalk bags, but Floyd was our favorite.
Chalk Bag Floyd measures 7.5 inches tall, comes with an adjustable buckle waist band, and includes not one, but two chalk brush holders. We think they are eyebrows.

---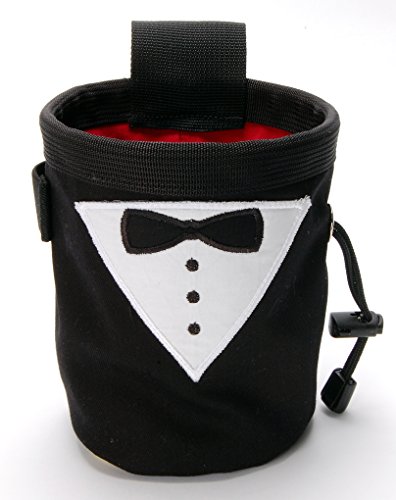 This Tuxedo Chalk Bag makes a perfect wedding gift or for any other celebration event. It's also great for those times that you want to do your climbing in semi-formal or formal attire. Okay, maybe you don't particularly want to dress in formal gear for climbing, but this chalk bag is a great compromise for dressing up your slummy gym gear.
Pure Grit's Tuxedo Celebration Chalk Bag is handcrafted in Boulder, Colorado, measures 5.5 inches tall, includes an adjustable waist band, and has an elastic brush holder.