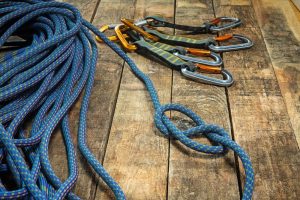 One of the most important pieces of equipment in your gear list is the climbing rope. Few climbers can do without climbing rope and it is an absolute necessity for the beginner.
Shopping for your next rope might be challenging. With the huge selection available on the market today, it might take you hours of research to finally come up with the right one. To avoid that, we want to help you shrink the search process to a few minutes of reading and selecting.
What is Paracord 550?
When you usually hear about paracord, it is most commonly Type III or Paracord 550. The 550 means that this rope is strong enough to hold 550 lbs of tensile weight. There is a stronger paracord that can support higher weight (Paracord 750) but Paracord 550 is the most common due to it being the best combination of strength and affordability.
What is Paracord used for?
Paracord is best used for suspending loads, repairs, building straps, and a lot of survivalist situations. It can easily be unwound to use the inner strands as a stronger small rope.
Paracord is not to be used for taking falls at the force of those experienced in a rock climbing situation.
Military grade ropes vs climbing grade ropes
Military ropes and climbing ropes are rated differently. Most military rated paracords are rated to withstand static weight, not the impact of falls and they don't have the dynamic stretch capabilities of the ropes used for catching falls.
Military climbing ropes are often used as training ropes that can be climbed from the ground up, or used as support for climbing or scaling other obstacles.
Rock Climbing ropes are specifically rated for taking falls, and they're rated with weights and impacts that far exceed those experienced in a regular climbing trip.
Paracord Vs Climbing Ropes
Military Spec paracord consists of a quality nylon outer layer, and an inner layer of 7-9 strands that each consist of 3 yarns, also made out of nylon. Thus, if you completely unravel the inside of Military Spec paracord, you'll get one outer shell, and 21-27 individual yarns altogether.
Climbing ropes are also made out of nylon and they consist of an inner core and an outer sheath. The core of the climbing rope is made out of thousands of nylon fibers that are twisted together to form a string. Three of these strings are then braided together to make one of the 10-15 braided core strings. These strings are then packed tightly together and a nylon woven sheath covers it to protect it.
There are a lot of excellent paracords with applications related to activities that rock climbers would do. Paracords are not meant to be used for taking falls in climbing situations where you are depending on the rope to withstand the force of those type of falls.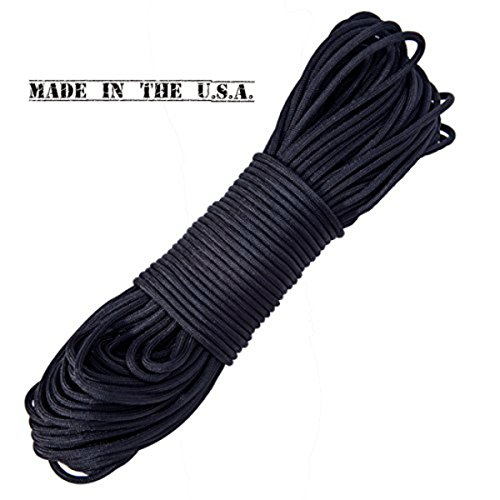 Many companies offer a 550 or 750 paracord, but only a few can weave stronger 850lb paracord. This paracord from Lifesaver Tools is sturdy, solid, and excellently weaved. It is resistant to mold and moisture and has been tested and guaranteed to offer results. This cord might just be the lifesaving cord you need in times of danger and trepidation.
The chord has an average break weight of 855.5 lbs. It has a tight woven nylon exterior along with inner strands with high tensile strength. The chord is manufactured in the USA and has been certified by a military contractor.
The design of the rope makes it ideal for belts and brackets but if you cannot find a use for it after buying it, you can return it and get your money back. After all, it is backed by a 100% money back guarantee.
Pros
This paracord can be used for climbing as well as a bunch of other activates. It is a device for variety of activities. Some people even use if for hammocks, bracelets, belts, and so on.
If you do a lot of kayaking, hiking, caving, camping, climbing, etc., you need a very strong cord. The Lifesaver Tools rope is ideal for these activities.
The cord is strong and high quality. It is durable and can easily pass for a commercial grade cord for variety of uses.
Cons
Some people have complained that the rope is not a legitimate paracord as it does not have a complete inner strand that you would normally expect in an 850 paracord. However, many more have found the rope to be good quality and durable, which are the most useful things you need in a rope.
If you are looking for competitively priced, high-quality paracord, the Lifesavertools 850 Paracord Climbing Rope is the way to go.
---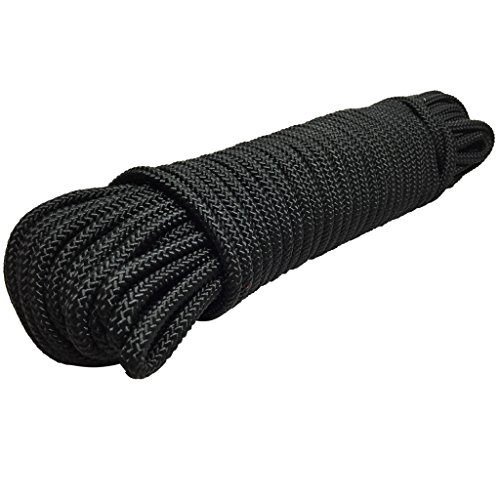 SGT Knots 3/8" utility rope is an all-weather, all-round, affordable rope. It can be used to hoist up, tie together, or pull out items. It has 1,200lbs of tensile strength and a diameter of 3/8". It has the strength and power to keep you high when tied to the rock. It is a medium rope you can add to your rack. In addition, it is available in different color variants so that you can secure your favorite color among the pack.
Pros
The rope is available for a reasonable price. If you are a beginner climber, this is a nice rope for you, especially if you are unwilling to spend too much on your first buy.
The rope is durable and of good quality. The beauty of any product is that it lasts a long time before needing replacement. Even if you do need to replace it, it doesn't cost as much as other ropes. With this rope, you will then be able to save the cost you would otherwise have used in replacement.
The rope is sturdy, strong, and yet is soft enough to tie knots. The flexibility yields comfort and versatility.
It does not smell and is reasonably supple. Both ends of the rope are strong, which prevents them giving out early.
Cons
It might not be as flexible as you would want it to be.
For a reasonably priced, long and tough rope, the SGT Knots 3/8" utility rope is a good buy. It is strong, solid, and will likely last a long time.
---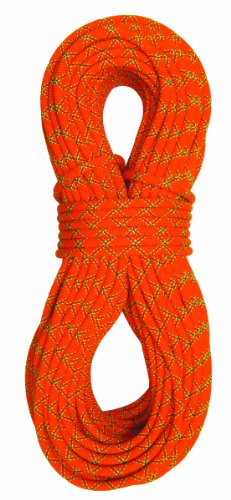 The Sterling Rope Evolution Duetto Dry Rope is a half rope that is lightweight without compromising on performance or quality. It is made from DryCore and Dry Sheath materials, making it strong and solid. It can be used for trad climbing, alpine, and other activities. It is a durable, strong, and rock-solid rope, worthy of addition to your list of climbing gear.
Pros
It is easy to use. One of the fundamental principles for any product to pass quality tests is that it should be easy to use. In addition, it is easy on the hand and can be used to coil or knot without stress.
The rope is strong and has the capability to stretch so that it does not break or release when it is pulled hard.
The rope is made from good materials that will ensure that it not only lasts longer but also fulfills the purpose for which it is made.
The Sterling Rope Evolotion Duetto dry rope is lightweight and available at a bargain price. If you really care about weight, you might want to select this above other thicker rope.
Cons
Some people have complained that the rope does not last for a long time. Specifically, one customer wrote that the rope broke down after about 12 months of usage.
If you are looking for a lightweight, inexpensive, and regular rope, the Sterling rope is recommended. It may not be as thick or perform as well as the more expensive ropes on the market, but it is still a good product.
---
Verdict
In terms of performance and the quality of build, the Lifesavertools 850 Paracord Climbing Rope is the best paracord on this list, followed by the SGT Knots 3/8" Utility Rope. The Sterling Rope Evolution Duetto Dry Rope is the best rock climbing rope.
To learn more about how rock climbing ropes are made and rated check out our article on everything you need to know about climbing ropes. If you are looking to purchase a climbing rope, our guide on how to choose a climbing rope will come in handy. Also check out our reviews of popular climbing ropes.