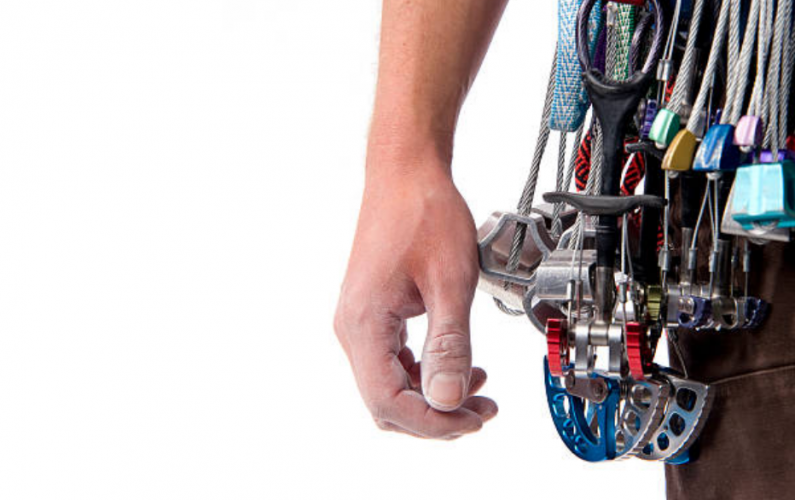 The first step in building your own rack of trad climbing gear is to get the most common pieces that you will need at most climbs. Once you have the most common pieces, you'll likely begin adding in other pieces that are specific to climbs that you want to do.
---
What is the best way to get into trad climbing?
The best way to start trad climbing is to go with someone who has been doing it a while. Getting a professional guide is also a great way to learn from someone who knows the routes you will be climbing and knows what gear to place and can show you how they do it.
When you're climbing with another person, you can share pieces between both of your racks. If there is an uncommon piece needed for the route you are climbing, only one of you will need to have it.
---
Active Protection vs Passive Protection
Active protection are pieces that have moving parts. When placing them, you adjust the piece to get the right fit. Passive protection has no moving parts, and they are placed by wedging them in.
It generally takes longer to get a passive piece set just right, where as placing an active piece is much quicker because it adjusts to the right size.
Some people prefer one type over the other, but many people use both types as they go. The only way to know which you prefer is to get lots of experience placing both active and passive pieces of protection.
---
What pieces do I need in a basic trad rack?
When putting together your basic rack, you will want to get together enough pieces to make it up routes with the most common types of protection. You can always add more pieces once you've gotten used to the basic protection. Eventually you could own gear that you only need for climbs where you're going somewhere specific and you know a certain piece is needed on that route.
To build a basic trad rack, a good amount of equipment to start with includes:
A set of cams: 6 – 8 cams in the common sizes
A set of nuts: 10 – 13 nuts in the common sizes
A nut tool: For getting stuck nuts out of cracks
Draws: At least 10-12, made up of quickdraws or a combination of slings/runners or webbing, and carabiners
Extra carabiners: Especially locking ones for building anchors
A gear sling: To carry all your gear
---
Let's go into detail about each type of piece and take a look at the best trad gear available:
---
Cams
Spring-Loaded Cams are the most popular piece of active protection for your trad rack. Cams are easy to place quickly using the retracting trigger bar to fit it into a crack. They are also very easy to remove by using the trigger bar. Cams are available in a large range of sizes.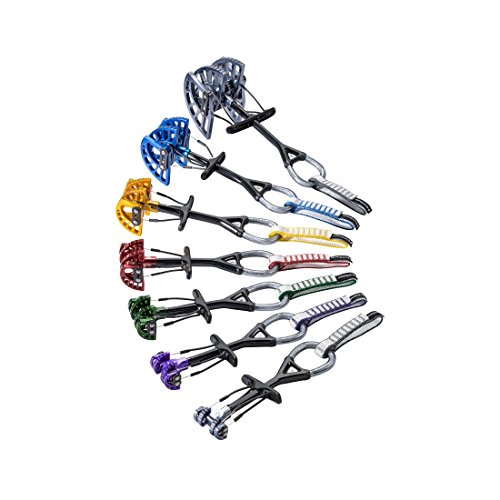 Black Diamond Camelots are the most popular set of cams. Since they are so common, this usually means most of your climbing partners will know them and be used to them. They come in a large range of sizes and are very easy to use.

---
TriCams
TriCams are a unique piece of protection that have two different methods of placement. They can be used like a passive piece of protection similar to how a nut is used. To use them as active protection, they can be flipped and pulled down to lock into the crack.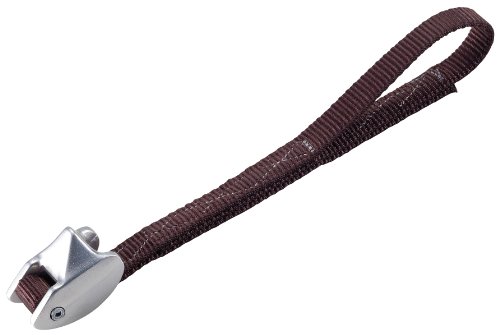 The original TriCam by Camp are a great piece of trad protection that you will find many places where they fit better than any other nuts or cams on your rack.

---
Micro-cams
Micro-cams are lighter and narrower than spring-loaded cam pieces, and you may find them easier to place in more shallow places.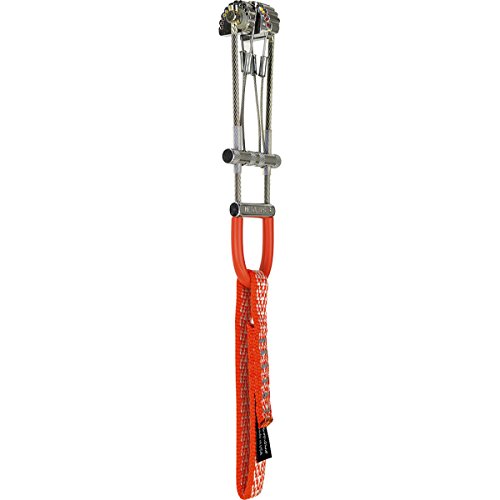 The Metolius Ultralight TCU Micro-cam is available in various sizes, as small as 13mm.

---
Nuts
Nuts are a piece of passive protection that are placed in cracks and wedged in to fit. They work best in a crack that tapers from wide to narrow. As there are many different sizes of cracks, you'll need different sizes of nuts.
The easiest way to start your rack is to start by getting a full set that contains one of each size. The sizes between different brands' size numbers are not standardized though.
The Black Diamond Stopper Pro Set and the DMM Walnut Nut Set are two of the most popular and best options for full nut sets available.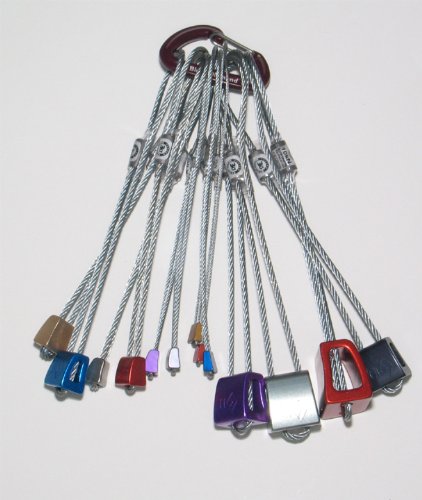 A full set of Black Diamond Stopper Pro Nuts includes 13 pieces, on each of sizes 1 to 13.

---
The DMM Walnut Full Nut Set is 11 pieces, one each of sizes 1 to 11.
They are also available in a set of 6 with sizes 1 to 6, or a set of 6 with sizes 3 to 8, or a set of 5 with sizes 7 to 11.
---
Micro-nuts
Micro-nuts fit in smaller cracks than the smallest of the nut set. You may want to add one or two to your rack. Even a full set of micro-nuts won't take up too much room or cause too much extra weight on your rack.
The Black Diamond Micro Stopper Nut Set is available in both standard shaped nuts, and an offset shaped version.

---
Hexes
Hexes are similar to nuts, and can be used the same way. They have an asymmetrical shape which makes them easier to get wedged in a crack that doesn't narrow.
Wild Country Rockcentric Hexes are a popular choice for hexes. You may not need a whole set, especially to start. With having one or two hexes on your rack in addition to your nuts, you'll get to love them and know when they are a better fit than a nut the more you place them.

---
Nut Tool
It's not always easy to get your placed protection out of the crack when cleaning your gear out of the route. Pulling on the wire attached to the nut causes wear, so it's much better to use a tool to lift the nut out of the crack.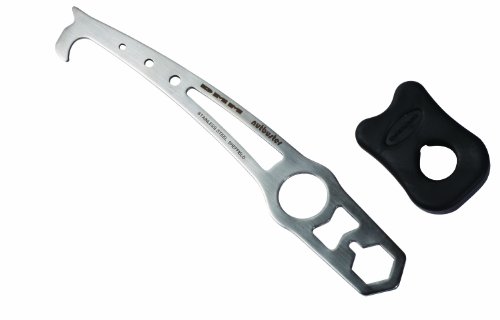 The DMM Nutbuster is a very popular nut tool. It has a sturdy handle and a great design for digging your protection out of cracks.

---
Gear Slings
With all the possible pieces of protection you might want to add once you've gotten your basic rack put together, you're going to have a very heavy harness. Gear slings are a way to carry and store your gear. They make passing gear to your partner easier, and they can be used to store the gear that you're not taking up with you on the climb when it's not needed.
The Black Diamond Padded Gear Sling has a comfortable padding that wicks away moisture. It has straps that are easy to adjust for a good fit.
---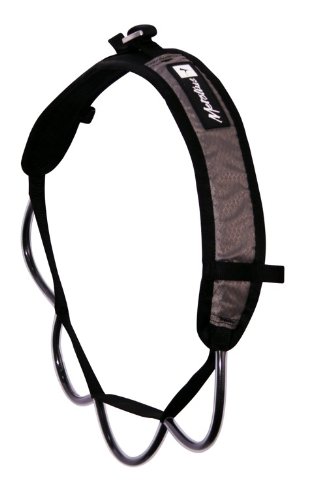 The Metolius Multi-Loop Gear Sling has multiple loops to help you organize your gear better. It has a buckle that is easy to adjust.

---